Weather and Climate
Changes in weather and climate can affect human health. According to the National Aeronautics and Space Administration (NASA), the difference between weather and climate is a measure of time. Weather is what conditions of the atmosphere are over a short period of time, and climate is how the atmosphere "behaves" over relatively long periods of time. An easy way to remember the difference is that climate is what you expect, like a very hot summer, and weather is what you get, like a hot day with pop-up thunderstorms.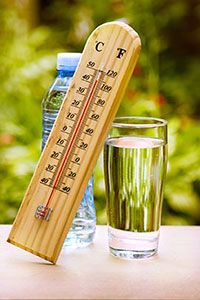 A warming climate will bring changes that can affect our water supplies, agriculture, power and transportation systems, the natural environment, and even our own health and safety. Experts from the Centers for Disease Control (CDC) and the United States Environmental Protection Agency (EPA) predict that changes in the climate will bring more intense and prolonged heat waves and other extreme weather events, as well as a rise in sea levels. According to the EPA, many places have seen changes in rainfall, resulting in more floods, droughts, or intense rain, as well as more frequent and severe heat waves. These changes have the potential to affect human health in direct and indirect ways, imposing economic and public health burdens on society.
Adverse health effects from extreme weather events are the
most common cause of known weather-related deaths in
the United States.
For more information, contact the Department of Health and Senior Service's Bureau of Environmental Epidemiology, at (573) 751-6102.
Available Data
Data Files
Daily Barometric Pressure
Daily Relative Humidity/DewPoint
Daily Temperature
Daily Winds
Maps, Charts, and Tables
Additional Resources