Water Quality
Water is vital to our health. The Missouri EPHT program works closely with the Missouri Department of Natural Resources and other organizations to ensure there is clean water for drinking, recreation, tourism, and continued economic growth.
Public drinking water in Missouri is routinely tested for chemicals and bacteria. Individuals can have their private drinking water well tested by going through the local health department or by contacting the State Public Health Laboratory.
Annually, the DHSS and the Missouri Department of Conservation test fish statewide for contaminants. DHSS then interprets the test results, issues advisories, and publishes fish consumption recommendations for the Missouri Fish Advisory.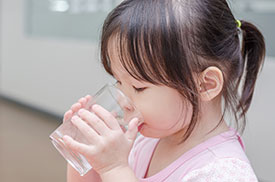 Whether you are taking advantage of one of Missouri's wonderful natural bodies of water or enjoying a day at a pool, spa, or water park, you can stay safe and healthy by following the recommendations provided in our 'Swim Safe, Stay Healthy', 'Healthy Swimming', and 'Blue-Green Algae' brochures.

For more information, contact the Department of Health and Senior Service's Bureau of Environmental Epidemiology, at (573) 751-6102.
Available Data
Queries
Data Files
NEW
Maps, Charts, Graphs and Tables
Maps
Additional Resources